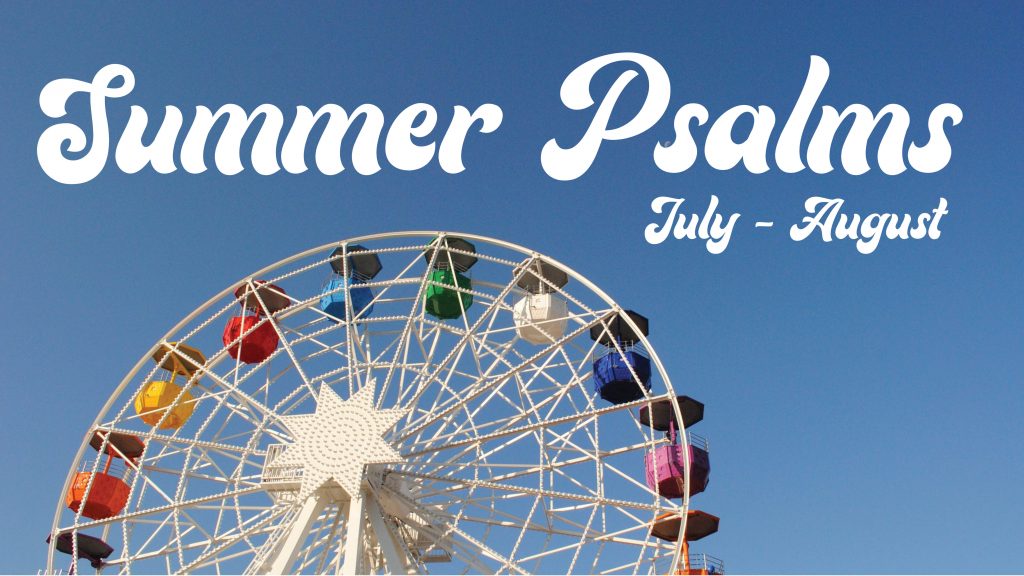 It's summertime summertime sum sum summertime
Summertime summertime sum sum summertime
Summertime summertime sum sum summertime
Summertime summertime sum sum summertime summertime…*
(The Jamies 1958)
It is summertime here at Mt. View and I love summer! I don't know if it is my summer birthday, or the long days of light, or the fun summer holds, but summer, for me, is a time of joy!
We will be reflecting that joy in worship the rest of summer, as we begin the sermon series Summer Psalms. Not only will we read and discuss Psalms, we will sing and hear music based on the Psalms, the sanctuary will be filled with summer color, the banners will fly, and we will find joy.
Psalms have been called the song book of the Bible, and there are songs there, but there is so much more. We will discover Psalms of praise, thanksgiving, revenge, wisdom and worship. We will delve into how the Psalms are part of the lectionary cycle, and how these Old Testament words are repeated in the New Testament.
Bring your best summertime vibe, enjoy the company of the church, and learn a little more about the Psalms! 
We will continue to have in person worship this summer, as well as online worship. If you are traveling, entertaining family, or just not comfortable coming out yet, please join us online. The Sunday service will be on YouTube by Monday morning.
See you this summer,
Pastor Stephanie
*For those of you who would like to listen to the original you can find it here https://youtu.be/TK_z73tVbgU